John Robbie steps into security risk management
John Robbie, former Irish and British Lions International Rugby player and 702 Talk radio host, announces involvement with Unified Risk Management, dedicating independent security and risk solutions to both organisations and individuals.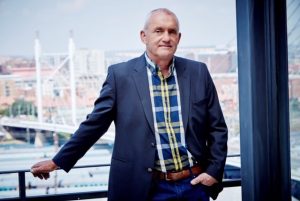 According to John Robbie, "Although I am retired, I am continuously searching for business initiatives that I am passionate about and where I can make a real difference. Stepping into 2019, security risks remain a major threat for both organisations and individuals in South Africa. I have personally experienced this during my years of hosting the morning show on 702. I had multiple threats made against my life, which didn't make leaving to work at 2 am an easy venture – I needed serious security risk advice and that's when Primedia introduced me to Herman Watney, founder and CEO of Unified Risk Management. I am truly excited to be associated with Unified and being involved in driving a solution that provides real change to South African organisations as well as individuals,"
The PwC Global Economic Crime and Fraud Survey 2018, 77% of South African organisations were victims of economic crime. This is the highest percentage of economic crime reported over the past decade in South Africa and once more representing the highest level in the world.
Economic crime reported by respondents consisted of; asset misappropriation maintaining first place, with fraud committed by the consumer, procurement fraud, bribery and corruption, business misconduct and cybercrime steadily on its heels. These figures provide an indication of how the entire South African supply chain is impacted by security risks.
Herman Watney, founder and CEO of Unified Risk Management says, "We are thrilled to have John Robbie onboard, his passion and solutionist thinking is a great addition to the team," Watney continues, "As workforces are becoming more mobile, businesses are operating in multi-story environments, infrastructure is scattered across locations and the importance of information technology is growing daily. This makes the protection of every organisation's assets, people and customers a prerequisite and it is even more important for organisations to take a holistic, unbiased and collaborative view of their security risks."
The PwC Global Economic Crime and Fraud Survey 2018 also highlights that organisations are showing a higher level of insight into fraud and economic crime, however 35% of respondents expressed a loss of greater than +/- R1.2mil due to economic crime, and 41% of respondents indicated that they spent an equal amount or even more addressing these issues.
John Robbie concludes, "A critical aspect of mitigating security risks is changing the attitude and behavior of staff towards the safety and security plans of organisations. Furthermore, organisations in South Africa are spending millions on security related services, but are they seeing real results? Organisations should consider an independent view to determine how effective, both operationally and in terms of costs, their current security measures and efforts are. Security risk management shouldn't only be treated as a compliance issue resolved internally, organisations should seek an unbiased and holistic view to assist them in mitigating and treating security risks."